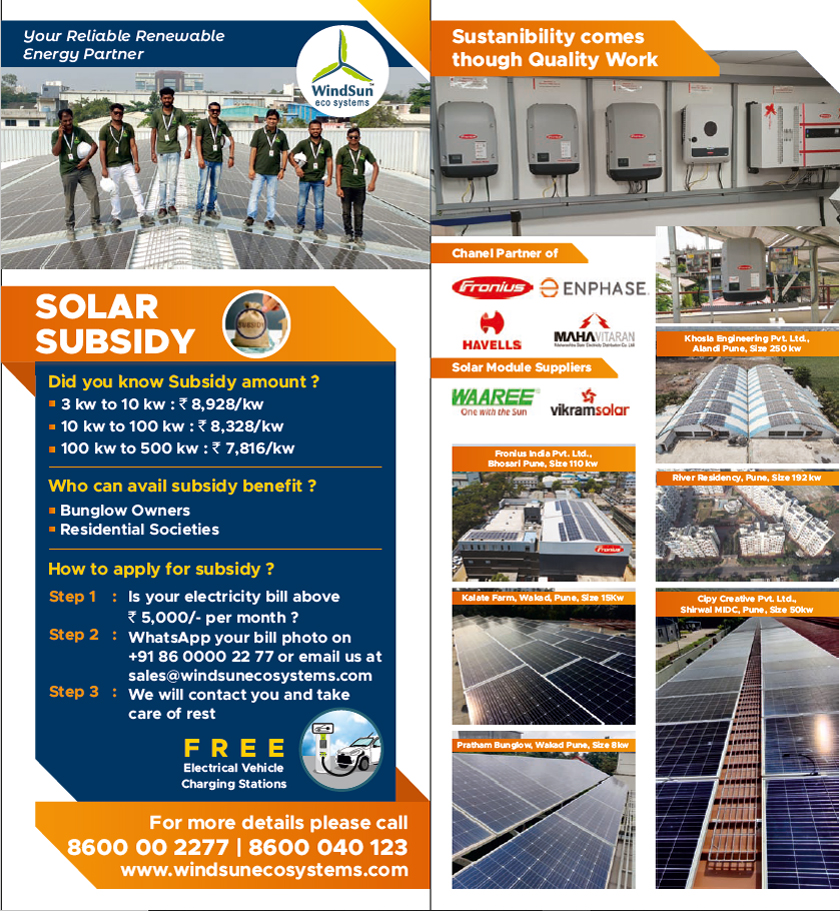 Solar Subsidy
"Golden Opportunity for all Individual Bungalow Owners & Residential Societies"
Now all Citizens from Maharashtra can enjoy the subsidy benefits after installing their Solar Systems. This Subsidy Scheme is valid for very limited time frame.
Every bungalow owner or residential Societies can install Rooftop Solar PV system with Net meter to reduce their electricity bills to ZERO along with subsidy benefits. This Solar rooftop system will give you double benefit and will help you to reduce your return on investment.
We are offering upfront subsidy discount to all our clients, this will help them to install their own solar system in discounted rate and within their budget. Not only that you don't have to run behind any government agency to claim their subsidy amount as it is pre deducted in the Invoice.
We are proud to say that after successfully disbursing subsidy to all our clients during FY17-18 and FY18-19 for a record 2500kw system size, now we will be giving subsidy to all our clients in advance.
MNRE has declared 200MW Subsidy scheme for Maharashtra through MSEDCL, we are proud to share that Windsun Eco system is empanelled with MSEDCL to distribute this subsidy benefits to all eligible solar PV system owners of Maharashtra.
We also appeal to all residential clients to be aware of subsidy frauds and verify that the selected agency is really empanelled with MSEDCL or not. DO not work with non-registered agencies.
Here is the calculation of how much one can save with solar subsidy scheme:
| System Size | Subsidy Up To 3KW | Additional Subsidy Above 3KW |
| --- | --- | --- |
| 1KW | ₹ 16,560 | Not Applicable |
| 2KW | ₹ 33,120 | Not Applicable |
| 3KW | ₹ 49,680 | Not Applicable |
| 3KW-10KW | ₹ 49,680 | ₹ 8,928/KW |
| 10KW-100KW | ₹ 49,680 | ₹ 8,328/KW |
| 100kW-500KW | ₹ 49,680 | ₹ 7,816/KW |
---
1. Subsidy for Residential Clients like Bungalow owners, Row house, and Residential Societies.
2. Subsidy Scheme is for Limited Time Frame.
3. Client's will get Upfront Subsidy Discount at the time of Booking.
4. You can Register your interest in Subsidy Scheme through what's app or call on given numbers.
---