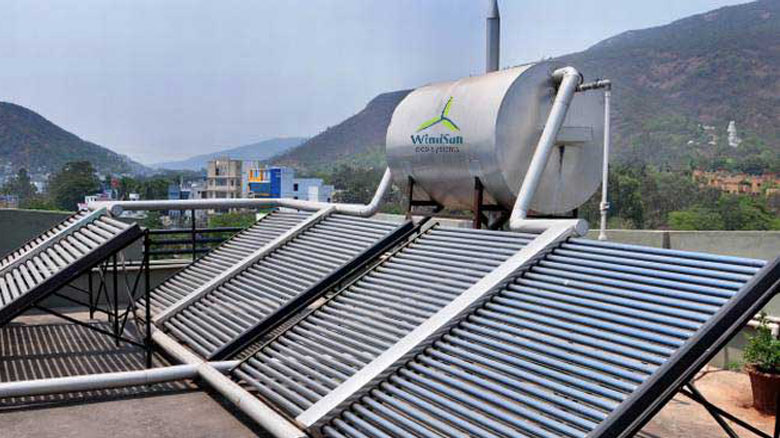 Solar Water Heater
---
Your small investment in our water heaters will help reducing your electric bills and environment for years. We have unique range of solar water heating systems for various applications. Our efficient water heaters can be installed in Hotels, Hostels, Hospitals, Residential apartments and Industries. We provide excellent quality systems giving the optimal output, corrosion resistant tanks, works flawlessly with hard and soft water. So what are you waiting for? Call us today to get your water heater installed.
A wide range of solar water heaters that have been designed in strict compliance with international quality standards are available with us. The solar water heater collects radiation from the sun converting it into heat energy which is conducted to the cold water thus turning it hot. This hot water is in turn stored in a well insulated stainless steel tank.
These solar water heaters can be used in cold conditions with no electricity where a electric water heater would inevitably fail. Our clients can also avail from us a wide range of highly efficient Solar Water Heater.
These heaters are a device, which helps in heating the water by using the sunlight, a free and natural energy resource.
With the helps our Solar Water Heaters, the water can be heated to any desired & above normal temperature above but these cannot exceed the boiling point temperature (100° c). These heaters are based on solar radiation and widely used for domestic as well as industrial applications.
These come in 2 forms one is FPC i.e Flat Plate Collector, these are very strong & have a very good life span of about 20 to 25 years & the other variety is ETC i.e Evacuated Tube Collector, these are glass exposed tubes & are fragile in nature & are delicate.In general solar water heaters take the heat from Sun & transfer it to the water which is then stored in highly insulated tanks for utilization next morning.
---